The App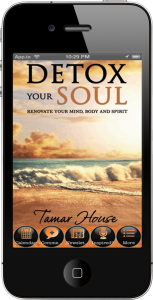 The Soul Detox App is your mobile resource for the book "Detox Your Soul."  It gives you a thirty-day detox calendar by which to live your life.  The app helps you maintain the focus on your journey and allows you to take notes and track your progress.
With the Detox Your Soul App, you can:
Access the 30-Day Detox Calendar
Share thoughts and interact with other readers
Take notes on your progress
Review the book
And much more!
Get it from iTunes or the Google Play store.